I love all the creativity on the internet, but I am aware of my shortcomings that prohibit execution of all but the most basic, inexpensive and quick craft projects. The key limitations would be:
1. Tiny hands continuously shaking from the iced tea/cola/latte monkey on my back…
2. 100% of available patience is applied to parenting one bright and well-behaved 7-year old. Yes, that's all I have. Patience is not one of my virtues…
So, I am crafty-not artistic, but the resourceful kind. I leave the actual creativity to others whose work elicits audible comments as I surf and pin to my palpitating heart's content. I hope you'll save some time and/or cash. You can say you used your own two hands and bask in the compliments!
Inaugural craft-oriented post here, so let's start with easy St. Pat's stuff…neat printables & easy ideas…Let's have fun anticipating Spring!
Set of Printables from Caramel Potatoes-vivid enhancements for Hershey's Kisses (see above), Skittles & granola bars plus other labels & tags-so many ideas!
Help the kids make golden Lucky Charms with these 3 easy steps from One Charming Party-also check out their bag toppers for these or other favors…
A printable St. Patrick's Day door hanger from FamilyShoppingBag.com for that grumpy teen leprechaun in your house!
One stop online shopping from Party City-you can get ideas and buy everything in one place for sweet table displays, drink recipes & favors!
Print this pillow box from Good Gravy Designs on card stock to assemble and fill with special treats for your nearest and dearest..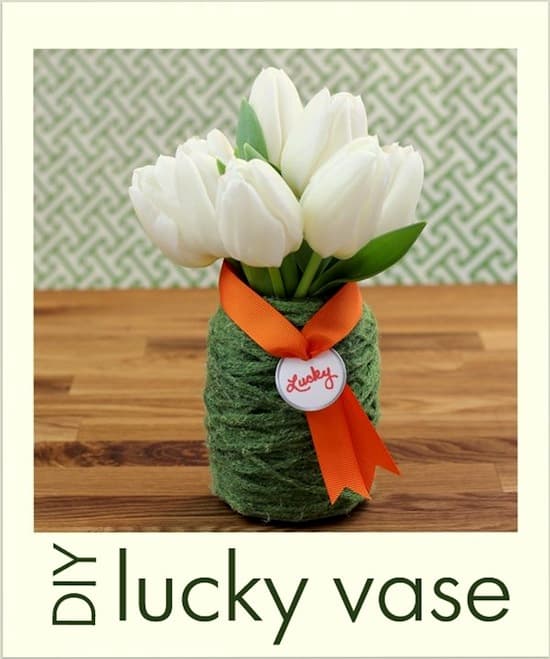 Feature this DIY Yarn Decoupage Vase from the Mod Podge Rocks blog as a centerpiece or utensil holder for your St. Paddy's Day spread-you'll keep it out all year long!
Use these St. Patrick's Day Subway Art Prints from Today's Fabulous Finds as a visual backdrop for your celebration-choose from several color combinations…
Check out my St. Patrick's Day Crafts board on Pinterest for more ideas…There are too many to detail in one post!
Last St. Patrick's Day, we had a 70-degree day, and Lil' Scout & I marched in the parade with her school. What is your personal harbinger of spring days ahead?